Let's turn it up to 11, Louisville!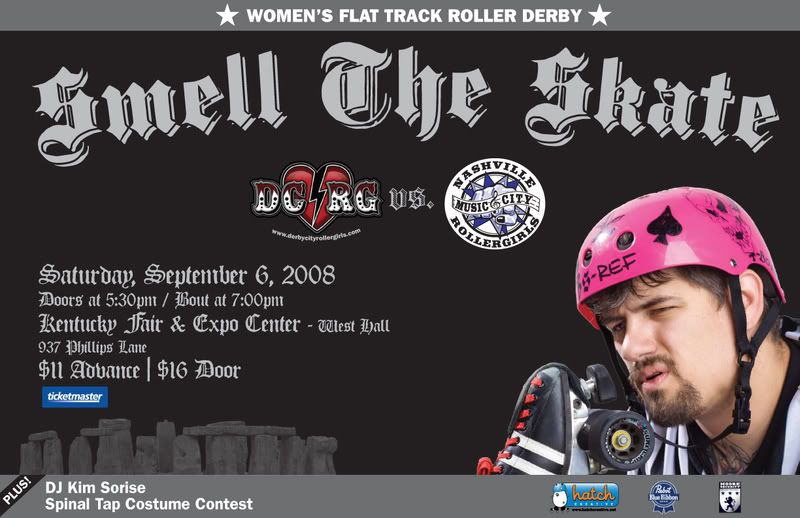 Are you ready to Smell the Skate?

Put on your spandex and tease up that rock mullet, Louisville! Your Derby City Rollergirls are ready to crank it up to 11, with their tribute to Spinal Tap!

Join DCRG as we take on the Nashville Rollergirls, Saturday, September 6, 2008 at the Kentucky Fair & Exposition Center - West Hall (937 Phillips Lane). Tickets can and have sold out in the past, so buy them now at any Ticketmaster outlet, or ticketmaster.com! General admission tickets $11 in advance or $16 at the door.

Doors open at 5:30pm, Bout starts at 7pm. Music provided by DJ Kim Sorise. Prepare for a Spinal Tap Costume Contest at half-time, with great prizes! You could win SEASON TICKETS to next year's home bouts!!!

Upcoming DCRG Events:
Rookie Bootcamp – Sept 7th, Skate Odyssey in Clarksville. Contact dcrg.melodrama@gmail.com for more info, if you think you have what it takes to roll with DCRG. Open to all women aged 21 and over, with valid health insurance.

Visit derbycityrollergirls.com to learn more about our team, or friend us at myspace.com/derbycityrollergirls. If you don't myspace, then join our Facebook group, or subscribe to dcrgnews at Yahoo! Groups.

And remember--it's "Derby City Rollergirls"--and then "Puppet Show"!